INTERMEDIATE+ Listening and Writing practice (write in the comments or send me a message and I'll correct you!!!) - Robinson Crusoe Chapter Five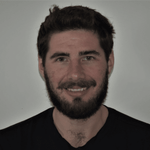 INTERMEDIATE+ Listening and Writing practice (write in the comments or send me a message and I'll correct you!!!) - Robinson Crusoe Chapter Five
Robinson Crusoe - Chapter Five
For

CHAPTER ONE

go here:

https://www.verbling.com/discussion/free-intermediate-reading-and-listening-practice-robinson-cr
Reading available here: http://robinsoncrusoe2.newsinlevels.com/chapter-5/
Listen to the story and answer the following questions:
What did Robinson Crusoe do for the captain?

Why did they need a bigger boat?

What did he bring for his escape?
Do you think he will escape from his master? if so, where will he go? why?
Write your answers in the comments or message me and I (or another teacher) will correct them for you! free writing practice!!!
If this was too easy for you you can try level 3 here:
http://robinsoncrusoe.newsinlevels.com/chapter-1/