New Feature: Demo Lessons
Verbling is happy to present
Demo Lessons
- a new feature that will allow all students to explore the Verbling Video lesson area.
You will now see a lesson listed at the top of your Verbling Dashboard labeled '
Demo
'. Clicking this lesson box will launch our lesson area and take you through an interactive tour of all of our lesson features. These include:
How to set up your camera and microphone

How to Chat and create Flashcards

How to upload PDFs and other lesson materials

How to create shared Textpads with your teacher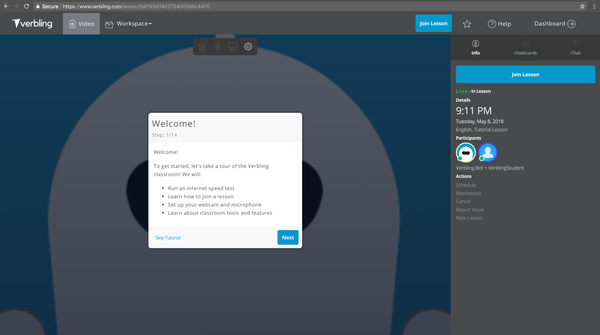 Can I take the Demo Lesson more than once?
If you have already completed the Demo Lesson once, you can go through it again as many times as you like. It will always appear in the '
Quick Links
' section of your Dashboard.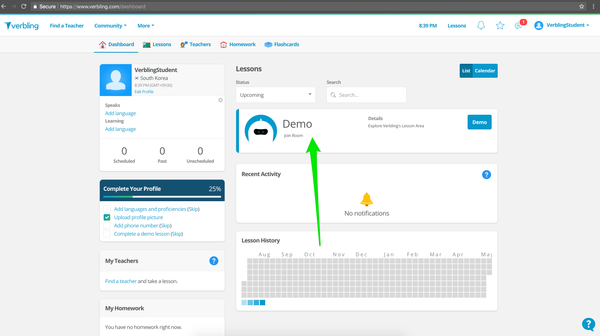 Can I remove the Demo Lesson from my Dashboard?
If you would like to remove the Demo Lesson box from your Dashboard, you can either a) complete the demo lesson interactive tour one time so that it is automatically removed or b) click 'Skip' next to the 'Complete a demo lesson' item in your 'Complete Your Profile' item list.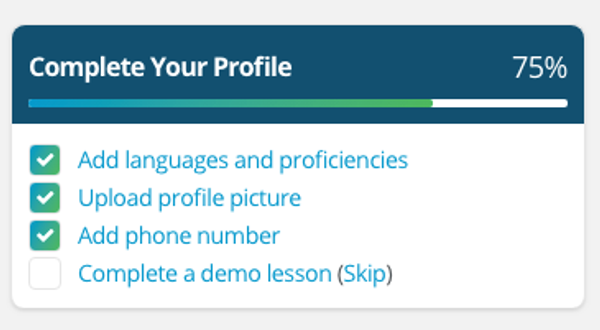 We hope that this interactive tour will help you to become more familiar with the Verbling Video lesson features!