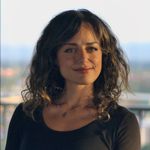 Sama Alkhalili
Канада
•
9:14 PM (GMT+01:00)
Язык(-и) общения
Родной
,
B1
,
A2
Обо мне
Hello! I'm Sama, an ELC® certified and accredited Neurolanguage Coach® and the founder of In English With Love. I help professionals, entrepreneurs and business owners improve their English communication skills

I've been helping professionals whose first language is not English for over ten years. From my experience, I know that the problem at this point is that your English is affecting your prospects. You are an expert in your field and you express yourself well in your native language, but you feel limited when communicating in English.

You may feel frustrated because you can't demonstrate your expertise when speaking in English. You may stay quiet in meetings or in conversations because you spend a lot of time thinking about what to say, even when you have great ideas and valuable feedback. You might feel unsure when writing emails, because you worry that there may be mistakes, or that your emails sound unprofessional.

What scares you most is that you know, if you don't change, you will miss future opportunities. You will not be able to achieve your goals or build the life you want.

But let me assure you, you're not alone. I've witnessed incredible transformations in the past ten years, and the same can be true for you!

With my help, you can significantly improve your communication skills in English. You will learn the skills you need to speak effortlessly, and you will have the confidence to participate in meetings, deliver successful presentations and write professional emails in English.

Then one day, you'll expand your business and secure future opportunities, and most importantly, you'll build the life you've always dreamed of.

METHODOLOGY

I offer a dynamic, learner-focused process that gives fast and sustainable results.

You will discover your confidence and get fluent in English without wasting time on academic textbooks and generic lessons. You'll be immersed in authentic content, and you'll engage in diversified topics so you can freely express your ideas and opinions in English.

Most importantly, you'll spend the majority of the time speaking, and you'll learn by doing, not just by studying grammar rules. You'll learn valuable techniques that you can apply and continue using even after we stop our sessions.

Thank you for reading my profile, and don't hesitate to send me a message if you have any questions. I look forward to working with you!

ABOUT ME

I am an ELC® certified and accredited Neurolanguage Coach® from Canada, and I have been helping professionals advance their English communication skills for ten years.

My mission is to empower my clients by helping them get the English fluency and confidence they need to build a life richer in opportunities.

Don't hesitate to contact me if you'd like to introduce yourself. I look forward to learning more about you!
Подробнее
Пробный урок
Один раз, 30 минут
Статистика учителя
В течение дня
5 лет назад
99.00%
320
10.5 уроков в среднем
5.0
Резюме

Опыт работы
Founder and Neurolanguage Coach
In English With Love - Victoria, British Columbia
English Instructor
Self Employed - Lanzarote, Spain
English Instructor
O.P. Language Academy - Malaga, Spain
English Instructor
Speak Easy Language Academy - Rome, Italy

Сертификаты
ELC Certified and Accredited Neurolanguage Coach
Efficient Language Coaching Global SL
B.A. Economics
Carleton University - Ottawa, Canada
TESOL
United TESOL - Ottawa, Canada
I've never met an English learner who doesn't struggle with prepositions in English. In fact, whenever...
In this article, I'm going to teach you these 8 common words and expressions: Be about to Hideous Bent...
Просмотрите профили других учителей, выбрав нужный аспект:
Пробный урок
Один раз, 30 минут