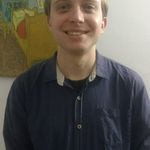 John Garlinghouse
哥伦比亚
•
11:09 AM (GMT-05:00)
关于我
My name is John Garlinghouse and I'm an English Teacher from the United States. I live in Bogota, Colombia and work at the Universidad Externado and I also teach English to mostly adult students. In 2017 I studied a CELTA course to improve my teaching, in particular regarding classes for adults. This experience has helped me to make my classes more dynamic so that the students learn in a relaxed setting while also having a good time. I speak Spanish but I prefer not to use Spanish in class unless it is absolutely necessary. My students range from adults working to improve their English for work to university students who need to prepare for exams. My class methodology depends on what the individual student is looking for, but in general my classes are focused on practical communication. I focus on skills that all students can benefit from, such as giving presentations, preparing for job interviews, writing cover letters, writing reports, using the phone, and the correct use of informal and formal language depending on the situation. My overall goal is to prepare students to use the language in an effective way no matter what their individual objectives are.
更多
教师数据统计
几个小时之内
4 年前
100.00%
549
19.7 课程均价
4.9
简历

工作经历
English Teacher
International House Bogota - Bogota, Colombia
I teach Business English, General English, and Exam Preparation classes to adults both individually and in small groups. My overall methodology differs depending on the needs of the client, but most classes are focused on grammar, pronunciation, and practical communication.
English Teacher
Cyxtera/Appgate - Bogota, Colombia
I taught small group classes at an information technology company called Appgate. My classes were focused on practical communication in the field of data security. Classes generally included role playing and presentations dealing with life inside a modern technology company. The idea was to make the classes dynamic so that anyone in the business could participate regardless of their position in the company.
English Teacher
Bogota Business English - Bogota, Colombia
I taught small group and individual classes to adults who are learning English for their jobs. My classes depended on the needs of the businesses, but most lessons were focused on Business English and presentation skills.
Language Institute Assistant
Universidad Del Norte - Barranquilla, Colombia
When I first moved to Colombia, I worked as an intern at the Universidad del Norte (North University) in Barranquilla, Colombia. I had many responsibilities, but I mostly worked with the university in a partnership programme that they have with local elementary schools and teachers' colleges. I was responsible for visiting those institutions, giving a guest lesson or presentation, and presenting feedback from the school about the progress of the programme and the evolving needs of the different schools. In addition to this, I substitute taught classes, tutored students, and gave cultural presentations at the university as needed.

认证/证书
CELTA
已验证
International House Bogota - Bogota, Colombia
The CELTA is a 4-week TESOL course administered by Cambridge University. To fulfill the course requirements, I taught 6 hours of elementary and upper intermediate level classes to students between the ages of 16 and 70 years old. Each lesson was critiqued by both my peers and trainers on the course with the end goal of planning and carrying out student-centered lessons.
查看更多教授该语言的老师: